Assault Rifles can refer to both the upgradeable skill and the weapon.
Description
Edit
The assault rifle is the ideal weapon for long-range precision. Firing 3-round bursts and delivering substantial damage, the rifle's primary drawback is its loss of accuracy when fired on the move or from the hip.
Improved Assault Rifle skill raises damage and accuracy. Later levels allow you to line up critical hits faster and use assisted aiming for brief periods of time.
Assault Rifles is an upgradeable skill in the game Alpha Protocol. This skill costs 5 Advancement Points per rank.
Ranks
Rank
Name
Notes
1
Assault Rifle Proficiency (Basic)
Accuracy: +2

Recoil Control: +2

2
Improved Rifle Critical Hit (Basic)
The Assault Rifle can be steadied for a deadly Critical Hit attack. To ready a Critical Hit, remain stationary - a set of crosshairs will appear in the reticule indicating the lining up of a Critical Hit. Once the Crosshairs are in the dead center of the reticule, the next burst fired will have a perfect grouping down the reticule.

Moving or releasing your aim will ruin the lining up of the Critical Hit. This ability reduces the time needed to line up a Critical Hit.

Time to Aim Critical Hits: 3 seconds (Default is 4 seconds)

3
Focused Aim (Basic)
Provides a brief period of lock-on capabilities. When aiming the crosshairs will automatically track to the enemy nearest the center of your aim. The ability can only be used when an assault rifle is equipped.

Duration: 10 seconds Cooldown: 60 seconds

4
Armed and Dangerous (Assault Rifle)
This allows Mike to carry twice his normal allotment of assault rifle ammunition into the field.
5
Assault Rifle Proficiency (Trained)
Damage: +3
6
Improved Rifle Critical Hit (Advanced)
Time to Aim Critical Hits: 2.5 seconds
7
Focused Aim (Advanced)
Duration: 20 seconds

Cooldown: 45 seconds

8
Rapid Reload (Assault Rifle)
With this ability, Mike can swap out Assault Rifle clips (whether to switch ammo types or reload more of the same) in an instant.
9
Assault Rifle Proficiency (Advanced)
Accuracy: +2 (+4 Total)

Recoil Control: +2 (+4 Total)

10
Focused Aim (Expert)
Duration: 30 seconds

Cooldown: 45 seconds

11
Improved Rifle Critical Hit (Expert)
Time to Aim Critical Hits: 2 seconds
12
Assault Rifle Proficiency (Expert)
Accuracy: +2 (+6 Total)

Recoil Control: +2 (+6 Total)

13
Improved Rifle Critical Hit (Master)
Times to Aim Critical Hits: 1.5 seconds
14
Assault Rifle Proficiency (Master)
Damage: +3 (+6 Total)
15
Focused Aim (Master)
At Master level, this ability provides an additional Recoil Control bonus while in effect.

Recoil Control Bonus: +5 Duration: 30 seconds Cooldown: 45 seconds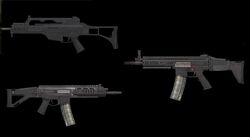 Assault Rifles are deadly long range weapons but are ineffective when firing from the hip. Aiming down the sights can make your shots as accurate as a pistol's. The weapons resemble a HK G36C, a FN Herstal SCAR, an advanced AK variant and a Bushmaster ACR. Assault Rifles are a type of weaponry available in Alpha Protocol.
NOTE: Prices are base values and can be lowered by perks.
Amm: Ammunition (per clip)
Assault Rifles
Edit
| Name | Dmg | Acc | Rec | Stbl | Amm | Price (Easy/Normal) | Price (Hard) | Dealer |
| --- | --- | --- | --- | --- | --- | --- | --- | --- |
| Gold-Plated AR | 28 | 25 | 13 | 4 | 30 | Sell for $40,000 | - | Enemy drop |
| Hamilton AR 21 | 25 | 30 | 15 | 5 | 30 | $4,500 | $5,175 | Surkov |
| Hamilton Eagle | 27 | 32 | 17 | 7 | 36 | $112,500 | $129,375 | SIE |
| Hamilton Hawk | 26 | 31 | 16 | 6 | 33 | $22,500 | $25,875 | Surkov |
| Rittergruppen CE20 | 25 | 32 | 14 | 6 | 24 | $5,500 | $6,325 | Grigori, Licinius |
| Rittergruppen Fauchard | 25 | 33 | 14 | 8 | 24 | $27,500 | $31,625 | Grigori, Licinius |
| Rittergruppen Halberd | 26 | 36 | 14 | 8 | 27 | $137,250 | $157,837 | SIE |
| Rittergrupen Grizzly | 25 | 32 | 15 | 5 | 30 | free | free | Exclusive "Assault Pack" item |
| Samael FR99 | 24 | 30 | 16 | 7 | 33 | $4,000 | $4,600 | Heck, Licinius, Nasri |
| Samael Executioner | 24 | 31 | 18 | 9 | 39 | $20,000 | $23,000 | Surkov, Nasri, Murad, Licinius |
| Samael Assassin | 25 | 31 | 20 | 10 | 42 | $100,000 | $115,000 | SIE, Nasri, Murad |
| Samael Retribution | 26 | 32 | 18 | 9 | 39 | $275,000 | $316,250 | Exclusive "Assault Pack" item |
| UC AK90 | 26 | 28 | 12 | 3 | 30 | $5,250 | $6,037 | Grigori |
| UC Jackal | 28 | 28 | 12 | 3 | 30 | $26,250 | $30,187 | Grigori |
| UC Timber Wolf | 30 | 23 | 12 | 3 | 33 | $132,000 | $151,800 | Surkov |
Ammo Types
Edit
| Name | Notes |
| --- | --- |
| Assault Rifle Ammo | Standard Assault Rifle Ammunition |
| Subsonic Rounds | Silences weapon fire, but low damage and ineffective against armored targets |
| Armor Piercing | Increases Accuracy, Armor Piercing but inflicts less damage against unarmored targets |
Barrels

| Name | Dmg | Acc | Rec | Stbl | Amm | Price (Easy/Normal) | Price (Hard) | Dealer |
| --- | --- | --- | --- | --- | --- | --- | --- | --- |
| Accelerator | +1 | | -2 | | | $3,150 | $3,622 | Grigori, Murad |
| Improved Accelerator | +2 | | -2 | | | $10,500 | $12,075 | Surkov, Murad |
| Advanced Accelerator | +2 | | | | | $33,000 | $37,950 | SIE |
| Lighter Rifle Barrel | | | | +1 | | $2,400 | $2,760 | Grigori |
| Ultralight Barrel | | | | +2 | | $8,000 | $9,200 | Surkov, G22 |
| Assault Rifle Linear Compensator | | | +3 | -1 | | $9,750 | $11,212 | Grigori |
| Assault Rifle Muzzle Break | | | +2 | -1 | | $3,300 | $3,975 | Grigori |
| Basic Rifle Muzzle Assist | +1 | | | -2 | | $6,000 | $6,900 | Grigori, Murad |
| Rifle Muzzle Assist | +1 | | +1 | -2 | | $12,000 | $13,800 | Surkov, Murad |
| Advanced Rifle Muzzle Assist | +1 | | +1 | -2 | | $37,500 | $43,125 | SIE |
| Superior Rifling | | +1 | +1 | | | $12,000 | $13,800 | Grigori, Murad |
| Perfected Rifling | | +2 | +1 | | | $36,000 | $41,400 | Surkov, Murad |
Sights

| Name | Dmg | Acc | Rec | Stbl | Amm | Price (Easy/Normal) | Price (Hard) | Dealer |
| --- | --- | --- | --- | --- | --- | --- | --- | --- |
| Scope | | +3 | | -3 | | $10,250 | $11,787 | Surkov, Nasri |
| Improved Scope | | +4 | | -2 | | $35,000 | $40,250 | G22 |
| Assault Rifle Laser Sight | | +1 | | +1 | | $11,000 | $12,650 | Grigori |
| Advanced Assault Rifle Laser Sight | | +2 | | +1 | | $34,000 | $39,100 | Surkov, G22 |
| Basic Rifle Sights | | +1 | | | | $3,100 | $3,565 | Grigori, Nasri, Licinius |
| Rifle Reflex Sight | | +2 | | -2 | | $7,150 | $8,222 | Grigori |
| Advanced Rifle Reflex Sight | | +3 | | -2 | | $18,600 | $21,390 | Surkov, G22 |
| Featherweight Rifle Reflex Sight | | +3 | | | | $35,000 | $40,250 | Rising Sun, G22 |
Magazines

| Name | Dmg | Acc | Rec | Stbl | Amm | Price (Easy/Normal) | Price (Hard) | Dealer |
| --- | --- | --- | --- | --- | --- | --- | --- | --- |
| Balanced Assault Rifle Clip | | | +1 | | | $3,000 | $3,450 | Grigori |
| Customized Assault Rifle Clip | | | | | +3 | $2,700 | $3,105 | Murad |
| Featherweight Assault Rifle Clip | | | | +2 | -6 | $2,200 | $2,530 | Surkov, G22, Licinius |
| Extended Assault Rifle Clip | | | | -1 | +6 | $8,000 | $9,200 | Licinius, Murad |
| Over-sized Assault Rifle Clip | | | | -2 | +9 | $12,750 | $15,000 | SIE, Licinius |
Accessories

| Name | Dmg | Acc | Rec | Stbl | Amm | Price (Easy/Normal) | Price (Hard) | Dealer |
| --- | --- | --- | --- | --- | --- | --- | --- | --- |
| Calibrated Rifle Recoil Springs | | | +1 | | | $3,175 | $3,651 | Grigori, Licinius |
| Composite Rifle Components | | | | +1 | | $1,500 | $1,725 | Grigori, Licinius |
| Composite Rifle Stock | | | +2 | +2 | | $27,250 | $31,337 | Grigori, Licinius |
| Custom Rifle Grip | | +1 | | | | $3,250 | $3,737 | Grigori, Nasri, Licinius |
| Internal Assault Rifle Magazine | | | -2 | | +3 | $4,000 | $4,600 | SIE, Licinius, Murad |
| Lighter Rifle Stock | | | +1 | +1 | | $4,000 | $4,600 | Grigori, Nasri, Licinius |
| Modified Rifle Chamber | | | +2 | +1 | -6 | $8,850 | $10,177 | Grigori, Murad |
| Reinforced Assault Rifle Components | +1 | | -2 | | | $3,250 | $3,737 | SIE, Murad |
| Streamlined Assault Rifle Frame | | | | +2 | | $8,300 | $9,545 | Grigori |
| Vented Rifle Action | -1 | | +2 | | | $3,050 | $3,507 | Grigori, Mongoose |
| Custom Rifle Upgrade Kit | +1 | +1 | +1 | +1 | | $4,000 | $4,600 | Exclusive "Assault Pack" Item |